Elizabeth Winthrop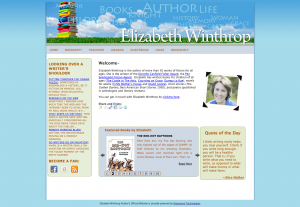 Award winning children's author, Elizabeth Winthrop, is a client we have been working since our beginning.  Her website looked like it was done ten years ago, cause it was.  She needed to enter the 21st century and turned to us for design and technical help.
Building a custom theme for Elizabeth was tons of fun!  Her site needed to reflect the fun of her kids books and the seriousness of some of her adult focused work.  What came out is a site that we are all proud of.
Check out Elizabeth's site here: http://elizabethwinthrop.com and look for her books at your local library.